Mini Campfires in Cali are the Best Personalized Wedding Gifts

---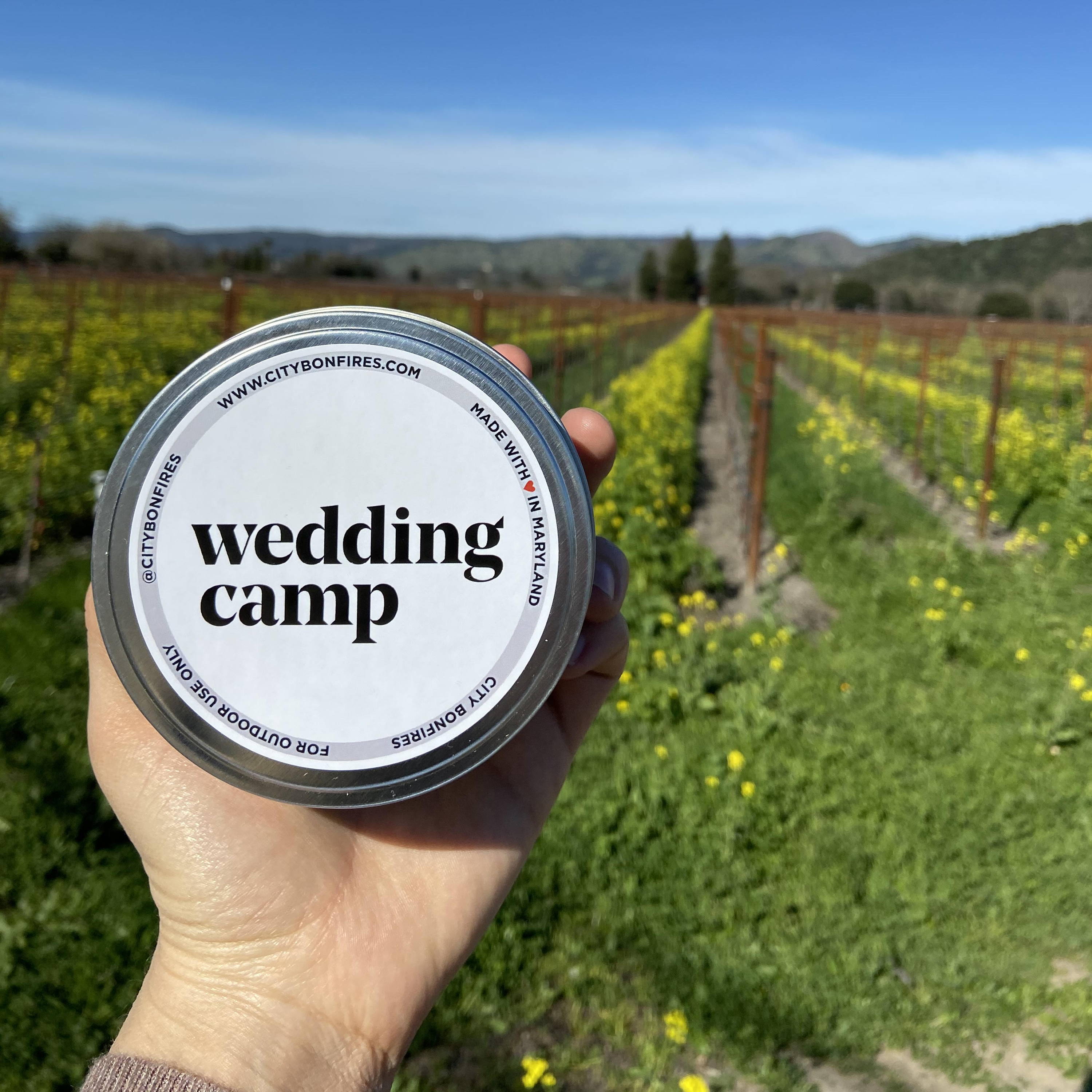 We recently sat down with Andrea Luke, owner of Wedding Camp in Napa Valley, California, to learn more about the unique wedding planner services they offer, and how City Bonfires' custom personalized gifts have become an integral part of their client and vendor gift baskets.
What is Wedding Camp Napa?
Andrea: Wedding Camp is a wedding venue finder and a wedding weekend concierge service in Napa. We are the guide to all things wedding in Napa Valley! We assist couples who are in the early stages of the wedding planning process, many of which are coming to Napa for the first time, and we try to make their research trip fun, easy, and low-stress. Our goal is for them to not have to worry about the details and just focus on wedding planning. We pick them up from their hotels and take them to visit venues, we help plan-out their weekend details, book them reservations at restaurants, nail appointments, etc. It's a very unique service, and especially beneficial for those couples who have yet to find a wedding planner. We are here to pick up the pieces! I started in the wedding industry about 10 years ago, working in sales, and then as an event manager at a venue in Napa. When COVID hit, events were at a standstill and I ended up losing my job. Wedding Camp has really been a silver lining within this past year.
How has COVID impacted your business?
Andrea: We have been very blessed to have had terrific business this year; COVID is what initially sparked the idea of Wedding Camp. Many wedding venues had to make job cuts, so there are less employees able to help out brides and grooms, and this is where Wedding Camp comes in. The wedding industry is just now starting to get back up to speed, and we are finally seeing people planning events for late 2021 and 2022.
How did you find City Bonfires?
Andrea: Honestly, the portable fire popped-up on my Instagram! I love bonfires, and I'm sure I have Googled "bonfires" before as I am always searching for a smaller, safer, mini campfire alternative. We have three giant redwood trees in our backyard, so a large bonfire is out of the question. When I first stumbled upon City Bonfires, I ordered the fire kits for myself personally, but soon realized what an amazing tie-in they would be for Wedding Camp.
How do you use City Bonfires within your business?
Andrea: With the name "Wedding Camp," I think of camp guide… guide to Napa… campfire! I purchased City Bonfires + S'mores Kits branded with our logo as promotional products and I give them as custom gifts to clients and vendor partners in our gift baskets. Everyone loves them and we get tons of comments on how they are such a creative and unique gift idea.
What feedback do you have?
Andrea: Only positive things! I've had several vendors ask for info on how to order custom branded City Bonfires to use as gift basket ideas for their couples. Whenever we have friends over for outdoor dinner parties at home, we place several portable bonfires out on the tables and they are a huge hit. S'mores for dessert with a personal, tiny urban fire on the patio is always a good idea!

Follow Wedding Camp on Instagram to stay up-to-date!
About City Bonfires
Every portable City Bonfires is handmade with ❤️ in Maryland with American-made materials by two Dads whose jobs were impacted by COVID-19. Each of our mini campfires is handmade with recyclable steel tins, non-toxic soy wax and, eco-friendly, all-natural biodegradable briquettes. Our kits are individually wrapped and packaged, making them safe for outdoor intimate gatherings, patio parties, or large events. We can ship our s'mores gift sets individually (to separate addresses) or as a bulk shipment. City Bonfires are also perfect as promotional products or as an icebreaker for remote or in-person corporate/business events, celebrations, or virtual team-building activities.